Jeanne Blessing - Vocals & Percussion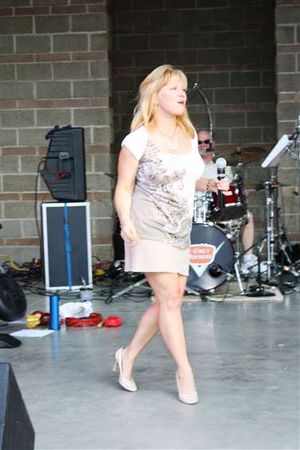 Jeanne's talent was 'found' while she was 'lost' at a family picnic at Coney Island as a child. The family was searching for their lost four-year-old daughter and found her surrounded by a group of "adoring fans" as she exuberantly sang Three Dog Night's "Joy to the World". She continued to pursue her performing talent through her grade school and high school years.

Jeanne was always found singing & playing with the choral Guitar Group or performing in their school musicals. Her high school drama teacher believed in her talent and told her to 'stay on the stage'. Jeanne agreed and went on to pursue a BFA from the University of Cincinnati's College Conservatory of Music in Dramatic Arts.

During her senior year of college in 1988, a group of students decided to build their own theatre company thus she became a founding member of the Ensemble Theatre of Cincinnati. In 1989 "E.T.C." produced "20 Years Ago Today"; a rock-n-roll musical based on the great tunes of 1969. Jeanne also sang and performed in a leading role in E.T.C.'s premiere musical "Cars, Dogs Money & the Moon" written by local composer and musical director, David Kisor. This ensemble even traveled to Memphis, Tennessee to performing this show.

In 1999 Jeanne performed as a "singing server" at the Cabaret Nightclub in Over the Rhine. (She believes she was a better singer than server.) In the fall of 1999, Mark O'Keefe, guitar in hand, walked into the Cabaret during an Open mic night devoted to the music of The Beatles. Impressing the audience as well as Jeanne with his musical talent and charismatic personality, a powerful friendship was born.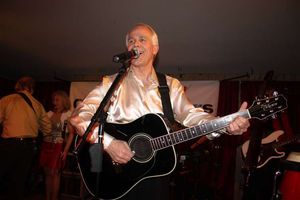 Jeff Wilson - Vocals, Rhythm Guitar, Congas, Harmonica, Percussion
Jeff started singing publicly during the early 1960's in the church choir. After high school he played solo at weddings and private functions. In 1972 he performed folk music as a solo act with the Queen City Balladeers at the Leo Coffee House and at the Eden Park Summer Concert series.

In 1981, Jeff met Dan Smith and they formed an accoustic duo, performing in variety shows and private parties. When Dan joined "The Bentwood Rockers", Jeff took an interest in country music and wrote and co-wrote many songs that were pitched to publishing companies in Nashville. One song, "Give Me a Ring", was published by Blackbird Music. Jeff performed an original song "Free to Love Again", on The Nashville Network's "Be a Star" show in 1992. Also in 1992, Jeff had the opportunity to sing the National Anthem at a Cincinnati Reds baseball game. He still raves about the standing ovation he received after the song.

Jeff played with "The Bluescasters" for a short while before he, Dan, and Mark O'Keefe formed "The Spectacles". "The Spectacles" were a five-piece classic rock band that played mostly for private parties and corporate events.

In 2006, Dan, Mark, and Jeff reunited and with Jeanne Blessing, Terry Truhart, and Pat Semancik, formed "The Cincy Rockers". With The Cincy Rockers Jeff plays the guitar, harmonica, congas, percussion, and shares lead vocals with Jeanne.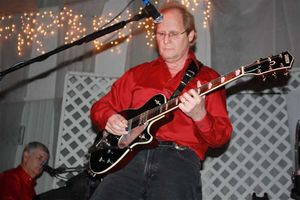 Mark O'Keefe - Lead Guitar & Vocals
Mark's first musical itch came when he wanted to play "
Oh Donna
" for his third grade crush, but didn't know how. He still remembers paying close attention to the Gibson 275 double neck guitar on the "Mickey Mouse Club". That was cool!
With the arrival of the Beatles in 1963, Mark convinced his parents he wanted to get serious and take lessons from a famous local musician from the 40s and 50s named Howard Early. By 1965 Mark, his younger brother Patrick and friends Mike Douglas, Tom Schneider and Gary Morgan started their first band called "The Parliaments" (it sounded English!). The Parliaments played on a live local television show called "Be Our Guest" with local talent Bill Nimmo and Marian Spellman as the hosts. This appearance was on the day before the new school year and they were the talk of school the next day! Mark was hooked on music for good now, and this later motivated him to create "Winfield" while in college. "Winfield" played dances, clubs, and weddings around Cincinnati for several years. 
Soon after Mark met some players with whom he would spend the next 20 years playing music. First, Mark and friends created "Streetwise", a popular dance/party band that still gets together every once in a while by special request. At various times this band included the fabulous 
Pat Semancik
 on bass. Next, during a period in the mid-90s, Mark hooked up with 
Jeff Wilson
 and
Dan Smith
 to create a band that was a sideline from both of their existing bands (Streetwise and the Bentwood Rockers, respectively) that was called "The Spectacles" (because they all wore glasses). They played corporate events and parties, did a parody CD for Cincinnati Bell and spent a lot of time laughing together!! During this time Mark also had a trio, "The Bob, Mark & Dave Trio", playing more acoustic type classic rock. Bob Beckstedt, a friend since kindergarten, helped create "The ROK Band" named using Mark's beloved but recently deceased mother's initials, 
R
uth
O
'
K
eefe.
In 1995, Mark won an area-wide guitar competition sponsored by Q102 radio and Jimmy Buffett. The prize for this was to perform live on stage with "Jimmy Buffett and the Coral Reefer Band" at Riverbend Music Center and a Gibson Les Paul autographed to him by Jimmy Buffett after the performance! (That's it on the lower left side of the home page of this website!) Mark has a video of the performance too.
In 1999 Mark met 
Jeanne Blessing
 (see her bio above for the story) and that changed their lives! Mark and Jeanne created "The EcHos", a Beatlesque type band that played for a couple of years till December of 2006. Soon after, Dan Smith called Mark to report that most of the Bentwood Rockers were going to retire and "what are you guys doing?" 
And that's how The Cincy Rockers came about!!
Mark's musical interests are varied. As well as doing commercial recording projects for Cincinnati Bell, he has been a featured guitarist on some friends CD projects such as Flip Reality and performs as the featured guitarist at the New Thought Unity Center as well as at All Saints Church band in Kenwood. Mark and Jeanne are available to perform as "duO'Blessing" for weddings and such.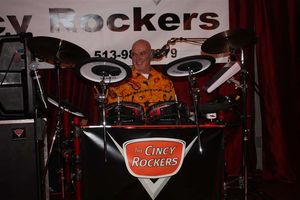 Dan Smith - Drums & Vocals

Dan began his music career in 1964 with drum lessons from Dodd's Music in Covington, KY. He met some other musicians at Covington Catholic High and his first band, "The Weejuns", was formed. Dan performed with numerous groups in his high school days with "The New Coventry" being the most successful. A few groups later, while attending NKU, he was recruited by "Big Red and the Commancharoes" and that developed into some recording opportunities in Motown and opening for acts like Lenny Welch and the Grass Roots.

Life happens and in 1970 he opted for a more traditional path. Dan gave up performing to devote his attention to college, career and motorcycle racing. During this time, however he played guitar with friends on a "just for fun" basis. In 1981, he met Jeff Wilson and they put together an acoustic group to play a charity fundraiser. The group, "the Belltones" was a big hit and a lot more "free gigs" were booked. This developed into some theatrical opportunities with Jeff Wilson achieving leading man billing compared to Dan's "comic sidekick" roles.

After finishing grad school, Dan bought a used drum kit and rocked the basement with his then 2-year-old son. In less than a year, Dan met Jeff Martin and the path to "The Bentwood Rockers" began. Scott Schulte, John Muennich and Rob Landrum joined the Rockers as the years past.

During the Bentwood Rockers era, Dan and Jeff Wilson produced a CD for the houseboat market. The "Smith and Wilson" CD enjoyed airplay and respectable sales.
Other projects included "The Spectacles" with Mark O'Keefe, Vern Smith and Mike Douglas, doing creative recording and performance work for corporate customers such as Cincinnati Bell and Cincinnati Convention Bureau.

Dan and wife Connie enjoy family, boating and traveling when the Rockers are not performing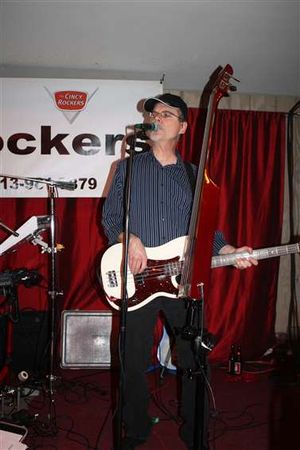 Pat Semancik - Bass & Vocals

Pat started out playing trumpet in the St. Ignatius band in 1969. He went on to LaSalle High School and played trumpet in the LaSalle marching and concert bands. Sometime in 1973 or so, while at a LaSalle sock hop, Pat started watching the bass player in a band, and said to himself, "Gee, I could do that". With his brother Tom's help, he purchased a Vox Panther Bass for $80, and within three weeks was in a band.

During high school and college, Pat played with many bands, before finally ending up for three or four years in "The Blue Tater Band". After college, he left Blue Tater to travel, eventually ending up as the bassist in a band called "Tracks" which opened concerts for acts such as flautist Herbie Mann and the Jeff Lorber Fusion, which included now-famous soprano saxophone player Kenny G. When Tracks eventually disbanded, he became the weekend "house bassist" at the Cincinnati Bankers Club on bass fiddle, playing with pianist Marc Dimond.

At this time he went back to college, working on a Jazz Double Bass performance degree at the University of Cincinnati. While going to music school, Pat supported himself by playing in "Backtracks", a Cincinnati-based oldies band. With only a few hours to go on his music degree, the reality on making a living dawned on him, and he abandoned music school and eventually earned his MBA from the University of Cincinnati.

Over the years, Pat has earned a living as a CPA, eventually giving up playing music due to the rigors of tax season. In 1989, he started again, doing another 5 year stint in The Blue Tater Band. After the second "Tater" period was over, came another "break" for a number of years, where work and family took over his life.

As the new millenium passed, Pat once again got the itch, bought a bass guitar and started rocking out with "Average Joe", as well as sitting in with anyone who would have him, including Mark O'Keefe, Jeanne Blessing and "Richie and the Students".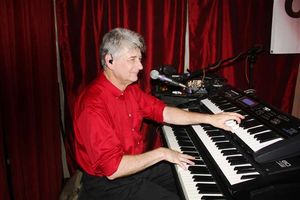 Terry Truhart - Keyboards & Vocals
Terry Truhart's musical career began with six years of piano lessons, and playing trumpet in his high school band in California. At 15 he played his first electric keyboard and found that it could be louder than the tuba in the school band. During this time he also discovered that he has what is called "perfect pitch"!
After trying junior college, Terry decided to move the Las Vegas and pursue a musical career playing progressive rock/biker blues. During this era he opened for "Bachman-Turner Overdrive" at a huge desert concert. Then he returned to his native California, joined a heavy club band called "Gateway" and experienced his "oddest musical experience": a groom got so drunk at a wedding Terry played that the police were called and arrested the new husband (so much for THAT wedding night)! During this time Terry also performed frequently as a "sit-in" with members of "Edgar Winter", "Sammy Hagar", "Jefferson Starship", and many others. In the 80s he played for more moderate bands and lounge duos and trios.
Terry next took a turn for the academic, returning to college to complete formal music studies. He eventually earned degrees in Music Composition and Voice from the California State University at Sacramento. Here he had his favorite musical experience "the first time the music played me". "The last semester in California in a 12 part jazz choir was pretty cool, too", Terry says.
From this, in 2000, Terry moved to Wisconsin to teach audio for theatre at The University of Wisconsin. In 2001 he moved to the Maryland/Washington DC area and joined a wedding band for two years. In 2003 he moved to the University of Florida in Gainesville to serve as the piano accompanist for University of Florida's renowned Dance department.